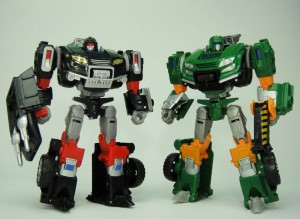 Takara Tomy's Hisashi Yuki has taken to his Twitter account to start hyping their soon to be released Generations figures TG-26 Bumblebee Goldbug and TG-27 Trailbreaker and Hoist. TG-26 Bumblebee Goldbug features some metallic gold paint applications and a blue head, however he does not come with the remolded head found on Hasbro's Goldfire. The TG-27 Trailbreaker and Hoist two-pack also features the line's signature metallic paint and also gives Trailbreaker a G1 toy accurate red visor. Enough of a differences to favor these guys over their Hasbro counterparts? Decide for yourself in the images mirrored below.
To see all the images of the Gyro/Blood upgrade on Headrobot's site, click HERE Headrobots has also posted a handful of updated pictures of the Hothead upgrade, giving a clearer look at the soon-to-be released set.

Happy ordering from YaHobby.com - action figure toys, model kits, RC toys and more...