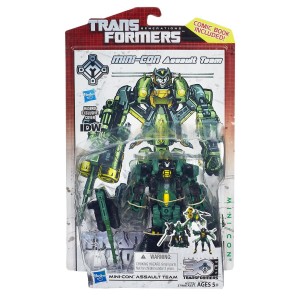 Once again Amazon brings us high quality official images of upcoming Transformers figures! This morning we have the highly anticipated Transformers Generations IDW Style Deluxe Series 4. This wave features Starscream in his new Armada styled body, Skywarp using the FOC Seeker body, Scoop with Holepunch & Tracer, and the Mini-Con Assault Team. This is the first time we've had an official name attached to the Mini-Con combiner, hopefully the bio will give names to the three individual bots. Check out the images mirrored below.
To see all the images of the Gyro/Blood upgrade on Headrobot's site, click HERE Headrobots has also posted a handful of updated pictures of the Hothead upgrade, giving a clearer look at the soon-to-be released set.

Happy ordering from YaHobby.com - action figure toys, model kits, RC toys and more...