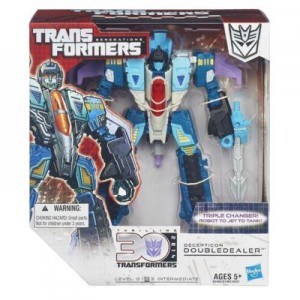 Courtesy of Transformers.com we have some new images and bios for the upcoming Transformers Generations 30th Anniversary Voyagers Rhinox and Doubledealer. The images feature the figures in all their respective modes and give us a look at them in their packaging. Check out the images and bios below.
Decepticon Doubledealer doesn't really care whom he works for, as long as they can pay his fee. And pay they do. The amount of firepower he carries more than makes up for the fact that he's totally untrustworthy. He carries enough explosive power with him to shatter mountains to dust, and for that both the Autobots and the Decepticons are willing to pay dearly, handing over crates full of Energon chips in exchange for a single battle's worth of services.

This Decepticon warrior is a 3-in-1 changer and he's out to make triple trouble for any Autobot or Decepticon that gets in his way! Convert him from robot mode to tank mode when the battle calls for some major firepower. But he can take the fight to the skies when you convert him to jet mode! He'll pummel any enemy with his launching missile whether he's in jet or tank mode. Keep converting him from one mode to another so his enemies can't keep up with him!

Includes figure and missile.

Series 02 #004 Decepticon Doubledealer




Rhinox is rare among robots. He has a brilliant scientific mind, as well as a deep philosophical curiosity about the nature of the universe around him. He is astoundingly strong - able to hold his own against even the most powerful opponents. He is friendly, good-natured and charismatic, with a fine strategic mind that would make him an ideal leader for the Maximals forces if they didn't already have one. What's more, he carries one of the most powerful weapons of any Maximals in the form of the twin Gatling Guns of Doom, which pump out a Predacon-shredding storm of hot lead.

This is one Predacon-pounding warrior who's got the weaponry to whoop up on anyone! Convert your Rhinox figure from robot mode to rhino mode when the battle calls for some major beast strength. He'll unleash a storm of ammo at any enemy with his twin spinning Gatling guns in robot mode! Keep converting him back and forth so his enemies can't keep up with him!

Includes figure.

Series 02 #005 Rhinox
To see all the images of the Gyro/Blood upgrade on Headrobot's site, click HERE Headrobots has also posted a handful of updated pictures of the Hothead upgrade, giving a clearer look at the soon-to-be released set.

Happy ordering from YaHobby.com - action figure toys, model kits, RC toys and more...
This article was published on Thursday 31 October, 2013.
Current Reviews: 0
| | | |
| --- | --- | --- |
| | Tell a friend | |